Minimum order ฿500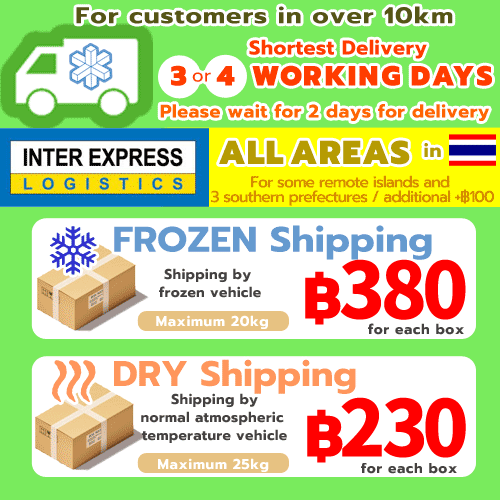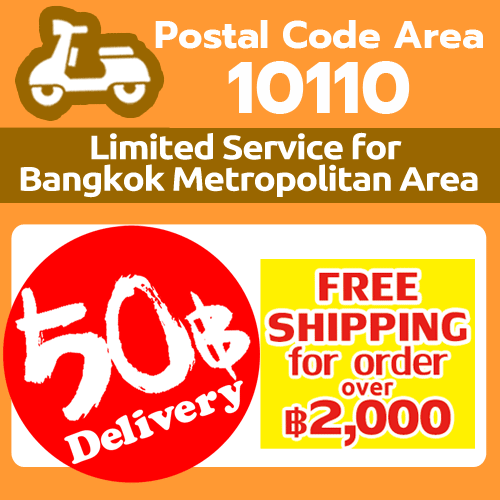 Due to the revision of shipping charges by SCG Express,
the delivery fee would have been changing. We apologize for the inconvenience.
Within 10km

Delivered by Makotoya Delivery fee ฿50

Supported areas for ฿50-delivery (by postal code)

All areas10110103301050010312
Some closer areas1012010240102501026010310104001030010100▲If you are using Google map for Mobile with GPS, you can check distance by WALKING DISTANCE from Route to Makotoya
over 10km

Delivered by INTER EXPRESS Frozen Items ฿350 / Dry items ฿200

All other postal code areas than above is over 10km.
Service details
Shipping Schedules
Please stand-by 2 days for delivery,
【wishing delivery date】+【the next day】
If you wish the shortest delivery,
it would be smooth if you place order before 12:00, from Sunday to Thursday.
* It takes longer to deliver when place order after Thursday afternoon,
the shortest delivery would be next Tuesday.
* No delivery service on Sundays and public holidays.
The following delivery schedule shows when doesn't have public holidays.

How to order
step1

Please select the products and add to cart.
You don't have to pay in web order process. Please feel free to order.
※The total price shown in shopping cart is provisional price and not confirmed yet.

step2

We will contact you to inform the confirmed price after we check inventory and price for the ordering products.

step3

The products we stores in website usually have enough inventory, but we sells same products at real store.
Sometimes, temporary-out-of-stock might happen due to bulk purchase.
We also have some of variable-price-products those are sold by weight.
For these reasons, we will contact every customers to inform details and confirmed price.

step4

We will ship products after you agree the confirmed price. (If you pay by "Direct bank transfer", products will be shipped after the payment is confirmed.)

Bank transfer Information

We will inform you after the total price is confirmed.
※Please kindly note that we cannot accept cancel-order after shipping the product.


฿50 Delivery area

●●● If in case of hurry ●●●
if in case our messenger is full or not available,
we can call GRAB-bike instead of using our messanger.

It is available for customer who can pay by bank transfer,
and needed to pay the delivery fee by yourself.
Terms of use
Following are the usage conditions.
I hope you will understand me ♪
Who can
stay home
and receive
phone calls

Same-day delivery is possible
by ordering until 8am
(delivered mainly
from the next day)

You can choose time from three time zones
【A】9:30-12:00
【B】13:00-15:00
【C】15:00-17:30

who can speak
simple Thai
Thai driver
will call
upon arrival

simple packing with no ice pack

There may be
some delay
due to traffic
conditions

Cash on delivery or
Bank transfer
When you need change
We will prepare

if you are in a hurry
we can call GRAB
*Limited service for customer after
transfer confirmed

We will check stock and contact you.
We also sell them at the stores at the same time, so please forgive us if in case out of stock.

We are selling more products at the store.
Please drop in at the store when you are near us♪

Commercial size is also available for customers who wish to use it for commercial purposes.
Please contact us ♪

Contact Us

Call 02-258-1029